Green Brain Comics
proudly presents: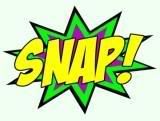 SNAP! The Comic
Arts Festival 2006
Now with program schedule!
Guestlist updated!
SNAP! The Comic Arts Festival 2006 will be held on
Saturday November 4th 2006
At Al Matta Hall
5121 Oakman Blvd.
Dearborn MI

In response to the overwhelmingly positive reception of the Dearborn's
first creators only convention back in October 2005, organizers have
set the date of Saturday November 4th for SNAP! The Comic Arts Festival 2006. "Last year we set out to prove that a small press comic event could be
successful in the Detroit area." says event coordinator Dan Merritt,
"And creators and attendees alike gave us so many favorable reviews
that we knew SNAP! had to be repeated." The second annual "SNAP! The Comic Arts Festival" will be held at
Al Matta Hall 5121 Oakman in Dearborn, Michigan. The one day
event starts at 10am and runs until 6pm, with an intermission from 2-3pm
featuring live music from local musicians. The Al Matta grill will be cooking
up some great food, and the panels and workshops will be held within arms
reach of the Al Matta bar. Comics, creators, music, food and beer!
Was success ever in doubt? Plans are still coming together, so check back often for guest and program listing as well as advertising opportunities.

The Pre-SNAP! Party will be held Friday November 3rd at
Green Brain Comics 13210 Michigan Ave. in Dearborn,
just 3 blocks from Al Matta Hall. Refreshments and entertainment will be
provided by your hosts at Green Brain and their new upstairs
neighbors Stormy Records!

Here is the complete program schedule:
Cartoon Carousel
Bob Corby
10:30am - 11:30am
Comics and Music
Marc Nischan, Marty Hirchak & Nate Higley
12pm - 1pm
Live Music
Bubblegone vs Verzerren
Ambit
http://www.cyclene.com/
2pm-3pm
David Petersen Q&A
4pm - 5pm
Dr. Sketchy
7pm -10pm

Seeya there!

SNAP! 2005 PICS HERE.

Katie and Dan Merritt owners of Green Brain Comics in Dearborn MI,
are proud to announce a showcase for small press
and self-published comic creators in the Midwest.
SNAP! The Comic Arts Festival.
"We have been traveling out of state to attend small press comic conventions since we bought our store in 1999. And after each show, we return home with a van full of great comics and more excitement about the art form of comics than we can contain. My partner Katie and I have been so inspired by other shows like SPACE in Columbus OH and SPX in Bethesda MD, we decided to have a our very own small press show in the Detroit area!" says Dan Merritt, "Michigan is home to a host of self-publishing comic creators, and we have created SNAP! to help connect them with a new audience right here in their own backyard"The goal of SNAP! is to showcase local, self-published and small press comic creators. By doing this we hope to build community for independent creators and encourage communication between creators and their potential audience, all while having a great time in the hometown of Henry Ford, Dearborn Michigan.SNAP! The Comic Arts Festival


If you have any questions, please contact us. greenbrain@greenbrain.biz
or come by the store at:
Green Brain Comics
13210 Michigan Avenue
Dearborn, Michigan
48126
1-313-582-9444