Green Brain Comics

Free Comic Book Day 2015
is Saturday, May 2nd!
10am to 8pm

BE A PART OF THE BIGGEST FREE COMIC BOOK DAY CELEBRATION IN MICHIGAN
Green Brain Comics celebrates 30th anniversary with a giant party
Green Brain Comics starts the festivities marking their 30th anniversary a little early.
On Saturday, May 2nd comic book store across the globe celebrate FREE COMIC BOOK DAY.


FREE COMIC BOOK DAY 2015 will be a great opportunity to try out new stories at no risk.
Green Brain Comics will have over 50 different titles ranging in subject, genre and suggested reading level.
And you can choose 3 different books, just for showing up.
Superhero titles like BATMAN and the AVENGERS, funny comics like SPONGEBOB SQUAREPANTS,
and serious stuff like the first chapter of the comic-only sequel to Chuck Palahnuik's cult classic FIGHT CLUB.
Along with the great selection of Free Comic Book Day comics,
Green Brain Comics will also be hosting several local comic creators.
Among the creator guests will be local favorite Jay Fosgitt.
Jay is the creator of BODIE TROLL and an artist on the MY LITTLE PONY comic.
You can even get your Free Comic Book Day edition of BODIE TROLL signed
At Green Brain Comics, Free Comic Book Day is about more than just the comics. It's also about community.
Several local organizations will be represented during Free Comic Book Day.
A portion of every purchase that day will benefit the FRIENDS FOR THE DEARBORN ANIMAL SHELTER,
who will also be on hand with an adoptable animal.
You can get more Free Comic Book Day comics and help out great causes if you
bring canned food (GLEANERS COMMUNITY FOOD BANK)
used books (FRIENDS OF THE DEARBORN LIBRARY),
and old cell phones (CELL PHONES FOR SOLDIERS).
And finally, while you're visiting on Free Comic Book Day you get to check out Green Brain Comics new building,
browse STORMY RECORDS, enjoy live DJ sets (UNDERGROUND RESISTANCE),
meet local celebrities, and help Green Brain Comics celebrate 30 years of doing business
in the beautiful East Downtown Dearborn Business District.
Free Comic Book Day is made possible in part by our sponsors, Oakwood Healthcare System
and the East Dearborn Downtown Development Authority.
Green Brain Comics is located at 13936 Michigan Ave. in Dearborn.
For more information,
call 313-582-9444 or check out the Facebook event at
https://www.facebook.com/events/675398102589685/
Here is the full list of FCBD Free Comics this year


Look what we did in 2013!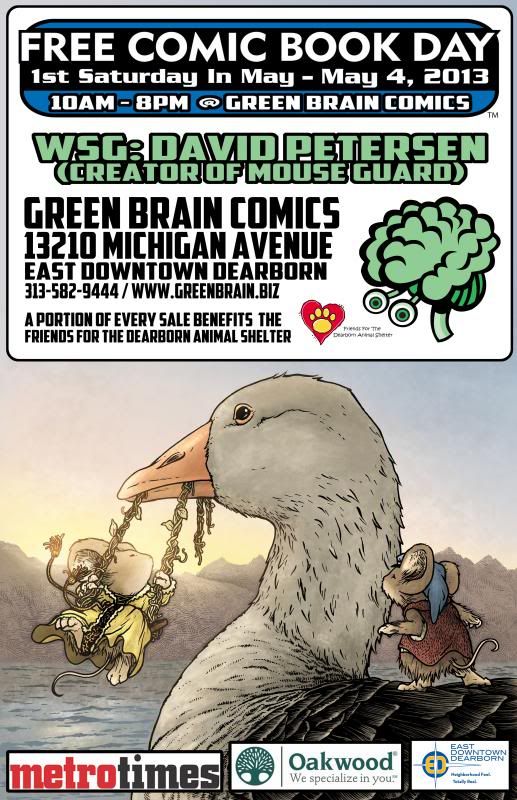 What is Free Comic Book Day?
Free Comic Book Day is a single day when participating comic book shops across North America and around the world are giving away comic books absolutely free to anyone who comes into their stores.

Which comics are being given away for free?
Below you will find a large selection of comics printed especially for
Free Comic Book Day. These book are paid for in cooperation
between participating publishers and retailers.

How do you get a Free Comic?
The simple act of visiting Green Brain Comics on Saturday May 4th
qualifies you to receive three Free Comic Book Day comics.
But that's not all!!!


Want more FCBD comicbooks?
We have come up with several ways for you to get more and help the community at the same time.
All day we will be accepting donations for the
following list of non-profit organizations.

Ways to get more Free Comic Book Day comicbooks
Benefitting Organization

Gleaners Community Food Bank
will be here to accept canned & non-perishable food items.


(You can receive up

to one extra fcbd comic per charity donated to

)

Cell Phones for Soldiers Donate your old cellphones to be recycled for phone cards.


(You can receive up

to one extra fcbd comic per charity donated to

)
A portion of every sale will be donated to support
Friends for the Dearborn
Animal Shelter

Come to the event in costume,
check into the store on Facebook,
Foursquare, Google+ or Yelp,
or
ride your bike to the event
and get extra FCBD comic books



Free Comic Book Day 2013 Guest List
GUEST LIST INCLUDES BUT IS NOT LIMITED TO:

David Petersen 1pm
Joe Foo
Jay Fosgitt
Jesse Hughes
Jay Jacot
Scott Ewen
Jennifer & Audra Rose
Marty Hirchak
Mark Rudolph
Joshua Moore
Jesse Rubenfeld
Randy Zimmerman

Musician / DJ services facilitated by
Alter Ego Management / Underground Resistance
DJ Ray 7

Mayoral Proclamation 11am
Special performances by
Billy Mark 2:00pm
Mosaic Youth Theater 3:00pm
Ivan Antonio 4:00pm
Simone Winter 5:30pm
Poetry Smash w/Paul Arrand Rodgers 7pm