Green Brain Comics

Free Comic Book Day 2014
is Saturday, May 3rd!
10am to 8pm

Lot's of details still being worked out.
Watch this space for more info, coming soon!


Look what we did in 2013!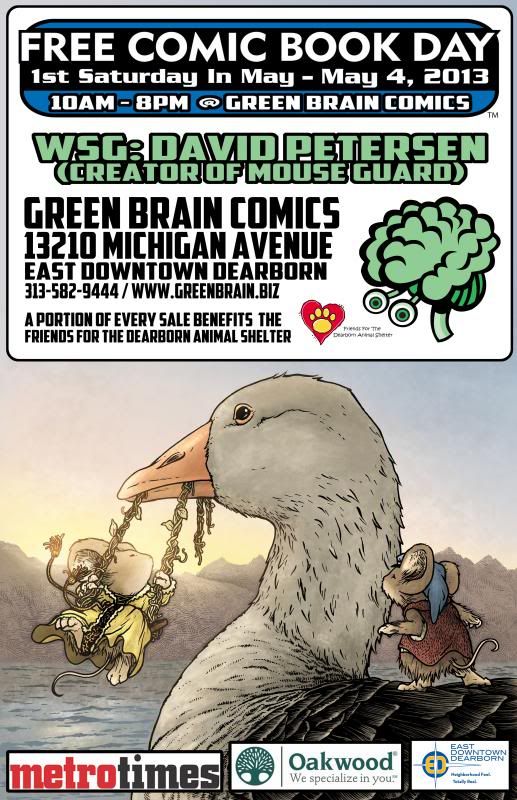 What is Free Comic Book Day?
Free Comic Book Day is a single day when participating comic book shops across North America and around the world are giving away comic books absolutely free to anyone who comes into their stores.

Which comics are being given away for free?
Below you will find a large selection of comics printed especially for
Free Comic Book Day. These book are paid for in cooperation
between participating publishers and retailers.

How do you get a Free Comic?
The simple act of visiting Green Brain Comics on Saturday May 4th
qualifies you to receive three Free Comic Book Day comics.
But that's not all!!!


Want more FCBD comicbooks?
We have come up with several ways for you to get more and help the community at the same time.
All day we will be accepting donations for the
following list of non-profit organizations.

Ways to get more Free Comic Book Day comicbooks
Benefitting Organization

Gleaners Community Food Bank
will be here to accept canned & non-perishable food items.


(You can receive up

to one extra fcbd comic per charity donated to

)

Cell Phones for Soldiers Donate your old cellphones to be recycled for phone cards.


(You can receive up

to one extra fcbd comic per charity donated to

)
A portion of every sale will be donated to support
Friends for the Dearborn
Animal Shelter

Come to the event in costume,
check into the store on Facebook,
Foursquare, Google+ or Yelp,
or
ride your bike to the event
and get extra FCBD comic books



Free Comic Book Day 2013 Guest List
GUEST LIST INCLUDES BUT IS NOT LIMITED TO:

David Petersen 1pm
Joe Foo
Jay Fosgitt
Jesse Hughes
Jay Jacot
Scott Ewen
Jennifer & Audra Rose
Marty Hirchak
Mark Rudolph
Joshua Moore
Jesse Rubenfeld
Randy Zimmerman

Musician / DJ services facilitated by
Alter Ego Management / Underground Resistance
DJ Ray 7

Mayoral Proclamation 11am
Special performances by
Billy Mark 2:00pm
Mosaic Youth Theater 3:00pm
Ivan Antonio 4:00pm
Simone Winter 5:30pm
Poetry Smash w/Paul Arrand Rodgers 7pm